The Explorers Club is an organisation that was set up in 1904 in the USA. Though recognising the American origins, there are Chapters of the club all over the world creating individual communities of like-minded people from many different disciplines of exploration and science.
There are over thirty Chapters within The Explorers Club itself and thirteen of these are based outside of the USA. Each Chapter has its own committee who are made up of volunteers that give up their own time to steer the Chapter forward whilst acting in the best interest of their members.
In 2018 the Chapter changed its name from the British Chapter to The Great Britain and Ireland Chapter or GB and Ireland Chapter for short. The reason was to embrace the contribution that our neighbouring country Ireland had given to exploration and to encourage people living there to be a part of the newly named Chapter.
As we move forward, The Great Britain and Ireland Chapter understands how important it is to combine exploration with science to understand the issues we face towards climate change and to inspire others to appreciate the true worth of our planet. With this in mind our motto is;
"Uniting explorers and scientists in a new era of discovery."
Find out more about our other chapters; www.explorers.org/about/chapters/chapters_around_the_world
Our logo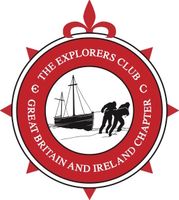 The New Great Britain and Ireland Chapter logo is a neutral design which symbolises the relentless pursuit to keep exploring and is a symbol of strength and equality which represents our Chapter ethos.
The central image is inspired by George Marston's painting depicting Shackleton and the James Caird lifeboat landing at South Georgia on the ill-fated Imperial Trans-Antarctic Expedition which set off in 1914.
Committee
Our Chapter committee is made up of members located across Great Britain and Ireland, providing their time for free to enhance the Chapter. Each committee member comes from different disciplines of exploration with a central focus to serve our members.
Run on a volunteer basis, we look at simple but effective planning to maximise our time and resources. We also welcome non committee members for support as this is their Chapter. We also seek outside support to help us achieve our goals; we do this with total respect and understanding of The Explorers Club and each other.
The initial commitment is to be a part of a committee email group to discuss the following years' strategy. On occasions we have organised meetings within the Chapter Headquarters at The Frontline Club, Paddington, London, W2 1QJ. However, due to the pure nature of the organisation which is exploration, to get every member together is extremely difficult as most are operating around the world.
So most of the decisions are made through the email group. If you would like to be a part of the committee and can give some time towards the Chapter, then contact our team.
Membership benefits
Frontline Club
All Great Britain and Ireland Chapter functions are held at The Frontline Club, which is a private club for journalists and other media professionals located in London near Paddington Station.
Members of The Explorers Club receive free membership of The Frontline Club, which can be used outside of organised Chapter events:
Speaking Engagements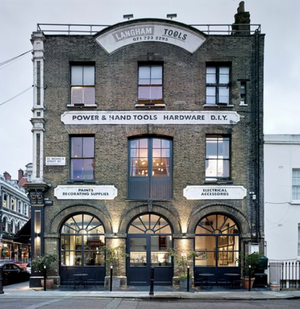 Every quarter we hold an event at The Frontline Club in the private function room. We encourage speakers from different fields of exploration to provide the main focus of the evening. It has been a mixture of photographers, film makers, polar explorers, high altitude mountaineers, commercial divers, artists and many others. A diverse mix of ideas and approaches to exploration.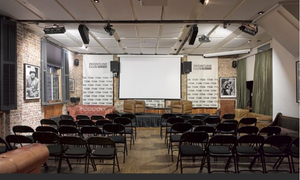 Some have been well known and are recognised from TV and film but others have come from an area that isn't recognised, but still have tremendous value in the exploring world. Members and non members are welcome and the room caters for a maximum of 60 persons.
All members will receive notification of speaking engagements at the beginning of each year so they can plan their diary. Further notification is given in the quarterly Newsletters, postal invitations and in our own social media platforms. Each event will have an Eventbrite on line payment method and we encourage you to secure your places as soon as possible.
We encourage members to attend as this is one way you can actually support your Chapter. It's a very relaxed evening to listen to extraordinary speakers and have a drink with like-minded people.
Chapter Coin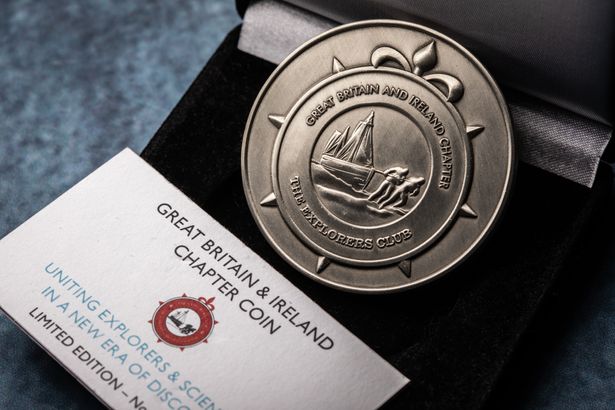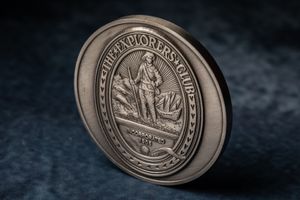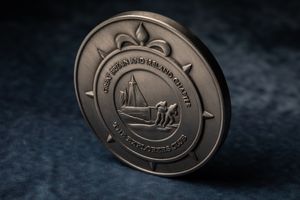 This limited edition Chapter coin (Ltd. 100) has been specially crafted for The Great Britain and Ireland Chapter.
On one side there is The Explorers Club logo and on the reverse is the Chapter's logo encased in it's own cushioned box.
These are presented to companies or individuals who support our Chapter including honorary members and guest event speakers.
Patrons to the Chapter are also given the Challenge Coin in recognition of their own contribution to exploration.
Some recipients of the Chapter Coin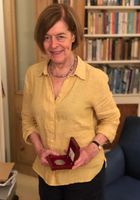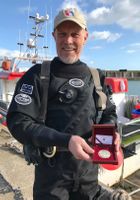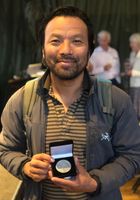 Collaborations
To enhance the quality of our Chapter and the service as a committee that we can potentially provide, we welcome support from outside organisations.
These organisations support the brand, our events and the communication within the Chapter.
We welcome new collaborations, especially in supporting the Events evening at the Frontline Club in London. In return, we will look at ways to enhance their own brands to a wide audience within the exploration world.
If you are interested in knowing more then contact our team.
How to join
Application forms can be downloaded directly from The Explorers Club website (https://www.explorers.org/about/join/application_form). Each applicant is registered with TEC and assessed at their quarterly committee meetings.
To complete your application form you will require two sponsors from within the Club. If you are struggling with this section then please contact our Chapter and we will liaise with you on possible support.
If you are successful then you receive notification through the post.
About The Explorer's Club
Famous firsts

North Pole, 1909 - Robert Peary, Matthew Henson, and Ootah
South Pole, 1911 - Roald Amundsen
Summit of Mount Everest, 1953 - Sir Edmund Hillary and Tenzing Norgay
Greatest Ocean Depth, 1960 - Jacques Piccard and Don Walsh
Surface of the Moon, 1969 - Neil Armstrong, Buzz Aldrin, and Michael Collins
The Explorers Club is an international multidisciplinary professional society dedicated to the advancement of field research and the ideal that it is vital to preserve the instinct to explore. The Club serves as a meeting point and unifying force for explorers and scientists worldwide. Our headquarters is located at 46 East 70th Street in New York City.
If you would like to find out more about The Explorers Club please go to their own website (http://explorersclub.org/about/about_the_club)
On the site you will see further benefits of membership, including the Explorers Club Annual Dinner (ECAD) and regular speaking events in New York, along with links to other Chapters and details of all areas to support any enquiries you might have.
Carrying the flag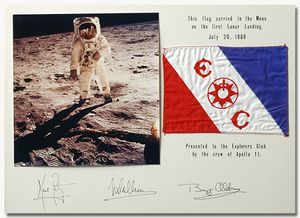 For more than a century, members of the Club have traversed the earth, the seas, the skies, and even the moon, on expeditions of exploration. First to the North Pole, first to the South Pole, first to the summit of Mount Everest, first to the deepest point in the ocean, first to the surface of the moon—all accomplished by our members.
The Explorers Club flag represents an impressive history of courage and accomplishment and has been carried on hundreds of expeditions by Club members since 1918. To carry the Club flag is an honour and a privilege. It has flown at both poles, from the highest peaks of the greatest mountain ranges, travelled to the depths of the ocean, to the lunar surface, and outer space. A flag expedition must further the cause of exploration and field science. Today there are 202 numbered flags, each with its own history.
To carry the Explorers Club flag you need to be an active member in good standing.
You can apply with our new online application at: www.awards.flags.explorers.org